cTrader Guardian Angel Trading Assistant
cTrader Guardian Angel Trading Assistant
paid
TRADING ASSISTANT DASHBOARD
The dashboard should be able to provide you with all the information at a glance to assist your trading, you do not need to start the alarm monitor to view the information. It includes an account overview as well as trade activity status and the most important piece of information you will need the Drawdown gauge. Click here to download
Monetary Win/Loss
Win/Loss ratio is used in calculating the risk/reward ratio. It is not very useful on its own because it does not take into account the monetary value won or lost in each trade. For example, a win/loss ratio of 2:1, means the trader has twice as many winning trades than losing. Sounds good, but if the losing trades have dollar losses three-times as large as the dollar gains of the winning trades, the trader has a losing strategy. The application uses Net Profit/Net Loss in currency to give you an accurate view of what is really happening.
Drawdown Gauge
This useful gauge will show the current drawdown of your account, it has a direct relation to how much of your capital you are risking, the higher the drawdown the more you enter the realm of gambling. If your outlook to trading is low risk, then you would be looking at a drawdown of 5% or less.
The maximum value for the gauge can be changed in the settings up-to any value up to 100.
COMPLETE PROTECTION RUNNING IT ON YOUR VIRTUAL PRIVATE SERVER (VPS)
Why not leave it running 24/7 365 days a year on your Virtual Private Server (VPS) so you are always protected?
ACCOUNT ALARMS
The account alarms tab allows you to configure alerts and notifications when certain account events occur. Some of the alerts are listed below and are all self-explanatory. Each event can be turned on or off, you can configure the parameters for the event and what action to take.
(Do Nothing)
A pop-up message, this displays a pop-up box to the screen with the alert, you will need to close the message when you have read it.
Email message, this will send you an email that you configured in the settings tab with details of the account event.
Telegram Bot, this will send you a FREE Instant message to your telegram bot.
Voice alert, a voice in English will be heard telling you of the account event that has just occurred.
Close Position, Closes a single position when for example it is 20 pips in profit.
Close all positions, this will close all open positions when an event occurs.
Close winning positions, this will close only winning positions.
Close losing positions, this will close only losing positions.
Instant Telegram Messages
Pure instant FREE messaging - simple, fast, secure, and synced across all your devices. Over 100 million active users in two and a half years. FAST: Telegram is the fastest messaging app on the market, connecting people via a unique, distributed network of data centres around the globe.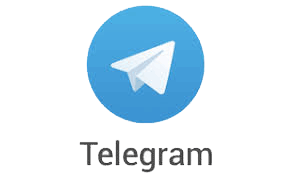 Find Out How To Create A Free Account Today
How To Set-Up The Telegram Service
BROKER DATA FEED STOPPED
This useful event will occur after the set time in minutes and send you any one of the notifications above. How this works is for the application to check every minute if there is data coming into the platform and if after so many minutes there is no data a notification is sent to you. This will still happen during periods of low volatility, so when you get the notification you will need to re-arm the manager.
CONFIGURABLE MESSAGE AND VOICE ALERTS
The application will allow you to change any of the Alert Messages to your own custom format and language. All Voice Alerts are easily located through the application and are all in English, you can replace these files with your own custom sound files.
"By changing the message and voices you can personalize the application to suit your country of origin."
TRADE ACTIVITY ALARMS
There are 8 events for the trade activity alarms, you can turn each one on or off and they all share the same Alarm Events.
Close all open positions at a 17:00 hrs. each day
When there are 10 winning trades close all winning positions
When a position opens a voice, a message will say 'A position has just opened" in English.
When a position closes display a pop-up message
When a pending order is filled send an email message
When any position is 20 pips down display a pop-up message
When any position is 20 pips up close the position.
Trading with voice alerts can be very useful when you are multi-tasking, sometimes having a friendly voice telling you a pending limit order has just been filled can be very useful. You can download all or some of the sound files here free of charge and use them in your own automated strategies.
Visit Product Page for Voice Pack
WEBSITE FEEDS
The web feeds section allows you to get instant access to market information from various websites that have the best and most up-to-date data and news. We provide a list of default sites that we feel are very useful, you will also have the option to modify and add your own personal custom web site feeds.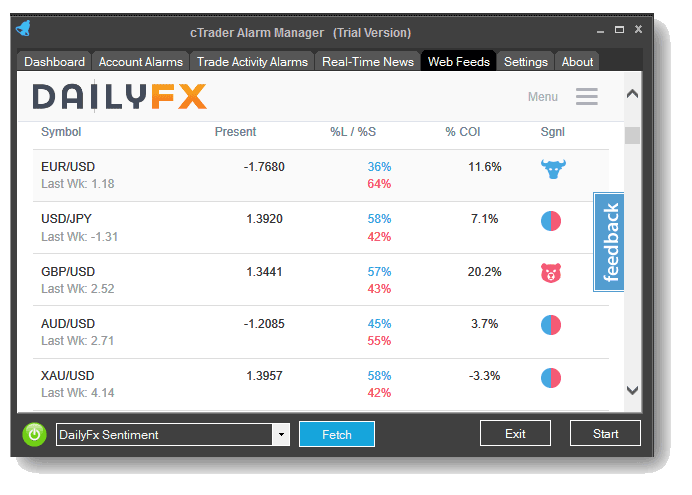 Some of the default services include the best online source of market information:
DailyFx Market News
DailyFx Daily Briefing
DailyFX Market Alerts
ForexLive Calendar
ForexLive Quotes
DailyFx Sentiment
ForexLive Price Alerts
DailyFx Support & Resistance
FXStreet Twitter Feed
ForexLive Twitter Feed
TradersLog Twitter Feed
ALARM MANAGER SETTINGS
The settings section allows you to configure the settings of the application.
Configure Settings in the File System
The file system section provides two buttons that open areas on your computer where the application settings and sounds files are located. This will allow you to make personal changes.
cTrader Physical Memory Auto Boost
Sometimes the memory that cTrader uses starts to increase to a point where it affects the actual performance of your computer, this option will allow you to clear the cache of memory when it hits a pre-defined maximum amount. The caching of data is used so that the platform can execute faster, but sometimes it caches so much that it affects performance.
The auto boost will clear the memory down to the minimum automatically each time it reaches the threshold you set to give a balanced performance.
"WHY NOT TRY IT OUT FOR FREE"
VISIT WEBSITE TO FIND OUT MORE
Contact: instant chat group
Website: https://clickalgo.com
Twitter | Facebook | YouTube | Pinterest | LinkedIn
Warning! Executing the following cBot may result in loss of funds. Use it at your own risk.
Notification
Publishing copyrighted material is strictly prohibited. If you believe there is copyrighted material in this section you may use the
Copyright Infringement Notification
form to submit a claim.
Language:
C#
Trading Platform:
cAlgo
using System;
using cAlgo.API;
using cAlgo.API.Internals;
using cAlgo.API.Indicators;
using cAlgo.Indicators;
using System.Windows.Forms;
using System.Threading;

// To download the software please visit: https://clickalgo.com/ctrader-advanced-risk-manager"

namespace cAlgo
{
    [Robot(TimeZone = TimeZones.UTC, AccessRights = AccessRights.FullAccess)]
    public class ClickAlgoSoftware : Robot
    {
        [Parameter(DefaultValue = 0.0)]
        public double Parameter { get; set; }

        private static Mutex dialogMutex = new Mutex();
        private static bool dialogIsShownOnce = false;

        protected override void OnStart()
        {
            ShowDialogBox();
        }

        protected override void OnTick()
        {
            // Put your core logic here
        }

        protected override void OnStop()
        {
            // Put your deinitialization logic here
        }

        public static void ShowDialogBox()
        {
            dialogMutex.WaitOne();

            if (dialogIsShownOnce)
                return;

            var ret = MessageBox.Show("It is not possible to download the software from the cTDN website.\nWould you like to visit us at ClickAlgo.com where you can download it?", "Downloading...", MessageBoxButtons.YesNo, MessageBoxIcon.Information);

            if (ret == DialogResult.Yes)
            {
                System.Diagnostics.Process.Start("https://clickalgo.com/ctrader-advanced-risk-manager");
            }

            dialogIsShownOnce = true;

            dialogMutex.ReleaseMutex();
        }
    }
}