cTrader Volatility Manager
cTrader Volatility Manager
paid
This tool will help you protect your exposed positions during periods of extreme volatility in the markets as well as trade directly from the terminal for short term scalping.
Minimize your Losses
This is one of the most useful features of the volatility trader, it will protect your exposed positions when there is a high-impact market event like news.
Lock-In Your Profits
All open positions have the option to be managed by when there is high volatility, only winning positions that are of the same trend as the volatility meter will be managed,
Manual Trading (Scalping)
It is possible to scalp using this tool by configuring the settings for small solid price movements and be informed of the trend direction and when this happens the controls below can be used to quickly enter a market order.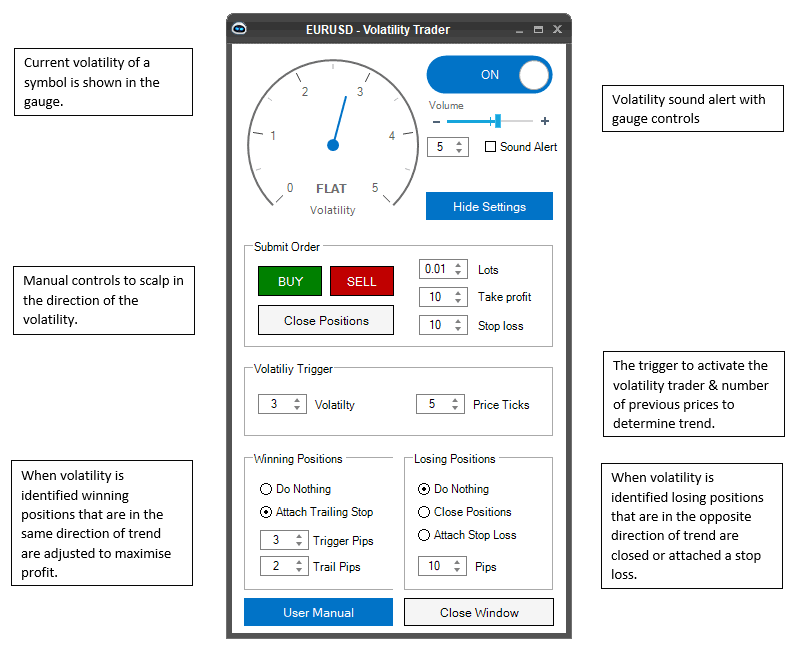 Contact: instant chat group
Website: https://clickalgo.com
Twitter | Facebook | YouTube | Pinterest | LinkedIn
Warning! Executing the following cBot may result in loss of funds. Use it at your own risk.
Notification
Publishing copyrighted material is strictly prohibited. If you believe there is copyrighted material in this section you may use the
Copyright Infringement Notification
form to submit a claim.
Language:
C#
Trading Platform:
cAlgo
using System;
using cAlgo.API;
using cAlgo.API.Internals;
using cAlgo.API.Indicators;
using cAlgo.Indicators;
using System.Windows.Forms;
using System.Threading;

// To download the software please visit: https://clickalgo.com/ctrader-volatility-trader

namespace cAlgo
{
    [Robot(TimeZone = TimeZones.UTC, AccessRights = AccessRights.FullAccess)]
    public class ClickAlgoSoftware : Robot
    {
        [Parameter(DefaultValue = 0.0)]
        public double Parameter { get; set; }

        private static Mutex dialogMutex = new Mutex();
        private static bool dialogIsShownOnce = false;

        protected override void OnStart()
        {
            ShowDialogBox();
        }

        protected override void OnTick()
        {
            // Put your core logic here
        }

        protected override void OnStop()
        {
            // Put your deinitialization logic here
        }

        public static void ShowDialogBox()
        {
            dialogMutex.WaitOne();

            if (dialogIsShownOnce)
                return;

            var ret = MessageBox.Show("It is not possible to download the software from the cTDN website. Would you like to visit us at ClickAlgo.com where you can download it?", "Downloading...", MessageBoxButtons.YesNo, MessageBoxIcon.Information);

            if (ret == DialogResult.Yes)
            {
                System.Diagnostics.Process.Start("https://clickalgo.com/ctrader-volatility-trader");
            }

            dialogIsShownOnce = true;

            dialogMutex.ReleaseMutex();
        }
    }
}