cTrader Advanced Stochastic Oscillator
cTrader Advanced Stochastic Oscillator
free
This FREE custom version of the cTrader Stochastic Oscillator will highlight when an instrument is deemed to be oversold or overbought. A stochastic oscillator is a momentum indicator comparing a distinct closing price of an instrument to a range of its prices over a certain period of time. The sensitivity of the oscillator to market movements is reducible by adjusting that time period or by taking a moving average of the result. It is used to generate overbought and oversold trading signals, utilizing a 0-100 bounded range of values and this special indicator allows you to specify the upper and lower levels for trade signals.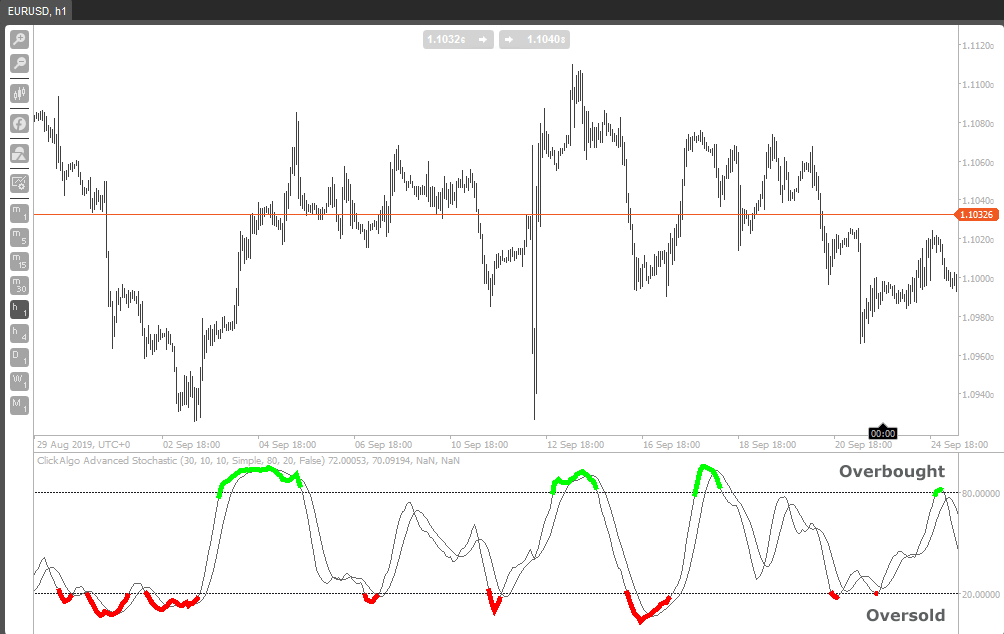 If you are looking for a Stochastic indicator that will send a pop-up, email or instant Telegram message then click on the link below.
Paul Hayes
Sales & Marketing
Email: contact@clickalgo.com
Phone: (44) 203 289 6573
Website: https://clickalgo.com
Twitter | Facebook | YouTube | Pinterest | LinkedIn
PS: Why not join our instant chat group on Telegram or visit our YouTube Channel
Notification
Publishing copyrighted material is strictly prohibited. If you believe there is copyrighted material in this section you may use the
Copyright Infringement Notification
form to submit a claim.
using System;
using cAlgo.API;
using cAlgo.API.Internals;
using cAlgo.API.Indicators;
using cAlgo.Indicators;

// https://clickalgo.com/ctrader-advanced-stochastic-oscillator

namespace cAlgo
{
    [Indicator(IsOverlay = true, TimeZone = TimeZones.UTC, AccessRights = AccessRights.None)]
    public class ClickAlgoIndicator : Indicator
    {
        [Parameter(DefaultValue = 0.0)]
        public double Parameter { get; set; }

        [Output("Main")]
        public IndicatorDataSeries Result { get; set; }


        protected override void Initialize()
        {
            Print("It is not possible to download the software from the cTDN website. Please visit clickalgo.com");
            ChartObjects.DrawText("ShowCopyright", "It is not possible to download the software from the cTDN website. Please visit:-  https://clickalgo.com/ctrader-advanced-stochastic-oscillator", StaticPosition.BottomCenter);
        }

        public override void Calculate(int index)
        {
            // Calculate value at specified index
            // Result[index] = ...
        }

    }
}