cTrader Advanced Stochastic Oscillator
cTrader Advanced Stochastic Oscillator
free
This FREE custom version of the cTrader Stochastic Oscillator will highlight when an instrument is deemed to be oversold or overbought. A stochastic oscillator is a momentum indicator comparing a distinct closing price of an instrument to a range of its prices over a certain period of time. The sensitivity of the oscillator to market movements is reducible by adjusting that time period or by taking a moving average of the result. It is used to generate overbought and oversold trading signals, utilizing a 0-100 bounded range of values and this special indicator allows you to specify the upper and lower levels for trade signals.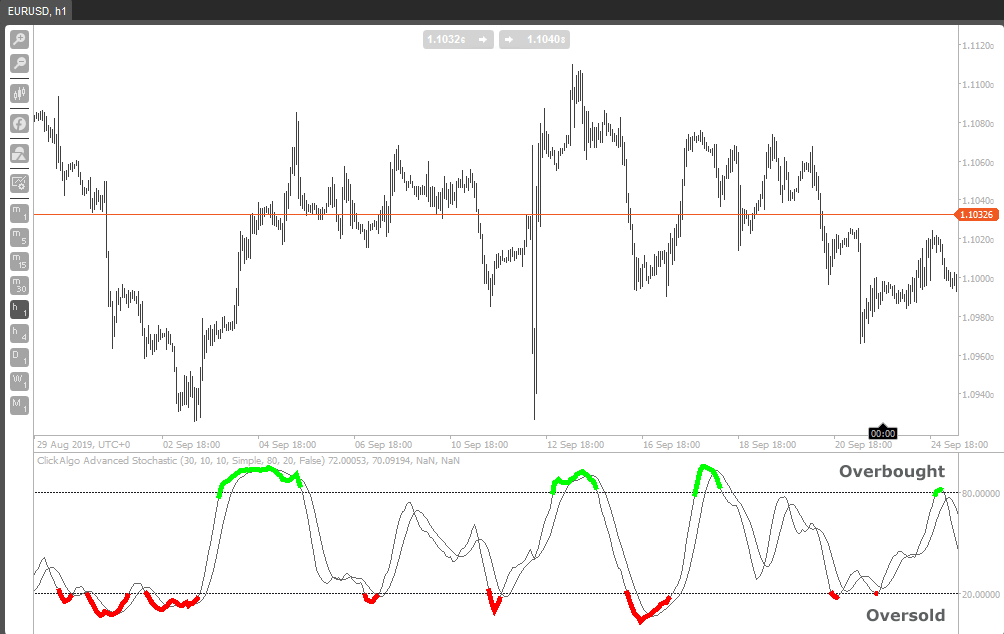 If you are looking for a Stochastic indicator that will send a pop-up, email or instant Telegram message then click on the link below.
Contact: instant chat group
Website: https://clickalgo.com
Twitter | Facebook | YouTube | Pinterest | LinkedIn
Notification
Publishing copyrighted material is strictly prohibited. If you believe there is copyrighted material in this section you may use the
Copyright Infringement Notification
form to submit a claim.
using cAlgo.API;
using System.Windows.Forms;

namespace cAlgo
{
    [Indicator(IsOverlay = true, TimeZone = TimeZones.UTC, AccessRights = AccessRights.FullAccess)]
    public class ClickAlgoIndicator : Indicator
    {
        [Parameter(DefaultValue = 0.0)]
        public double Parameter { get; set; }

        [Output("Main")]
        public IndicatorDataSeries Result { get; set; }


        protected override void Initialize()
        {
            var ret = MessageBox.Show("It is not possible to download the software from the cTDN website. Would you like to visit us at ClickAlgo.com where you can download it?", "Downloading...", MessageBoxButtons.YesNo, MessageBoxIcon.Information);

            if (ret == DialogResult.Yes)
            {
                System.Diagnostics.Process.Start("https://clickalgo.com/advanced-stochastic-oscillator");
            }
        }

        public override void Calculate(int index)
        {
            // Calculate value at specified index
            // Result[index] = ...
        }

    }
}