cTrader Scalpers Buddy
cTrader Scalpers Buddy
free
by
ClickAlgo
in category
Volatility
at 13/03/2015
The cTrader Scalpers Buddy will inform the trader with a message and sound when high volatility occurs, it will also display the current spread and total depth of market volume for the buyers and sellers.
Depth of Market
The Depth of the Market is the total of all volume as shown below:
Volatility Alert with Warning Sound
Volatility Message With No Alert
You can show both the volatility and spread or just spread or just volatility, this can be selected from the parameters below.
INDICATOR PARAMETER
CURRENT FEATURES
Configure the volatility depending on your scalping requirements.
Sound alert, configurable on/off.
Position warning message anywhere on the screen.
Configure the colour of the warning text to suit your background colour.
Option to display actual volatility amount in pips to be shown with the message to show price movement
Show or hide volatility message
Show or hide the current bid/ask spread size.
Show or Hide Depth of Market (total)
Configure the colour of the current spread size text.
* Use this Indicator with the Market Trading Clock /algos/indicators/show/687 to manage volatility when an exchange opens.
Some brokers do not provide real DoM and have their volumes fixed.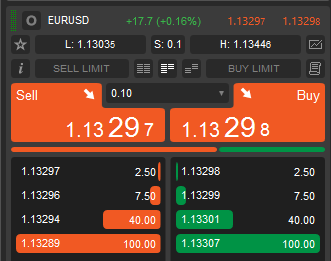 Contact: instant chat group
Website: https://clickalgo.com
Twitter | Facebook | YouTube | Pinterest | LinkedIn
Notification
Publishing copyrighted material is strictly prohibited. If you believe there is copyrighted material in this section you may use the
Copyright Infringement Notification
form to submit a claim.
using cAlgo.API;
using System.Windows.Forms;

namespace cAlgo
{
    [Indicator(IsOverlay = true, TimeZone = TimeZones.UTC, AccessRights = AccessRights.FullAccess)]
    public class ClickAlgoIndicator : Indicator
    {
        [Parameter(DefaultValue = 0.0)]
        public double Parameter { get; set; }

        [Output("Main")]
        public IndicatorDataSeries Result { get; set; }


        protected override void Initialize()
        {
            var ret = MessageBox.Show("It is not possible to download the software from the cTDN website. Would you like to visit us at ClickAlgo.com where you can download it?", "Downloading...", MessageBoxButtons.YesNo, MessageBoxIcon.Information);

            if (ret == DialogResult.Yes)
            {
                System.Diagnostics.Process.Start("https://clickalgo.com/ctrader-forex-scalping-tool");
            }
        }

        public override void Calculate(int index)
        {
            // Calculate value at specified index
            // Result[index] = ...
        }

    }
}